WS is the leading brand of the Far-Infrared, we work for producing a high-quality Far-Infrared product which can care everyone at any time.
Beginning in 2017, we will alter the product name from "WS Far-Infrared Therapy Unit" to "Firapy".
The FIRAPY Design Concept: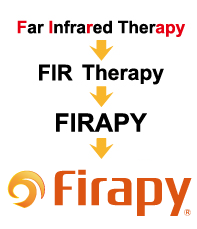 The new product name "Firapy" comes from Far-Infrared Therapy. It retains our professional focus on Far-Infrared. Firapy will be an easier product name for people everywhere to say and remember.
We use the red (sun color) in our sun logo as our main color and the orange, blue, and green color expresses our intention for a happy, lively, professional, and knowledge service.
The main elements of our logo design are simple, international, lively and friendly. The simple design shows that our product is easy operated, and the round shape means we care about everyone everywhere who is using our device, at anytime. The swirl represents our goals: to gather the science and our services to provide all customers with high-quality healthcare tools.